Zix Enterprise Suite

Complete Protection All-in-One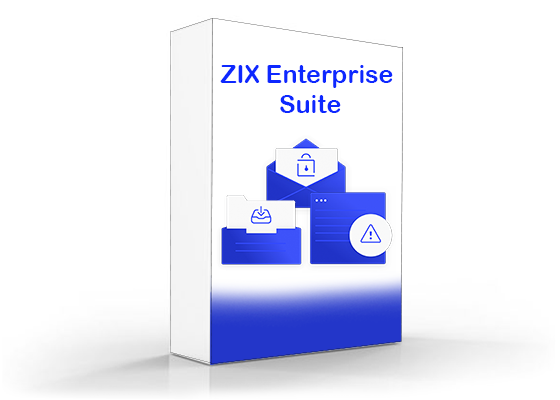 Zix Enterprise Suite
Contact us for Pricing!

Get a Quote
With bundled services hosted by Zix, you can rest easy knowing your business communications are secure.
Complete Protection, All-in-One.
Our Enterprise Suite bundles industry-leading technology to meet all of your email security and compliance needs. With services hosted by Zix, you can rest easy knowing your business communications are secure. Plus, a single, simple management interface delivers peace of mind with centralized administration and reporting for your entire organization.

Complete Protection
Experience complete protection for your organization by combining industry-leading security technologies.

Unified Business Communications
Zix uses policy-based retention and built in message classification to automatically archive all business communications from 48 electronic communication tools, including social media.

Increased Compliance
From HIPAA to GLBA and everything in between, we help meet your unique compliance needs.
Advanced Email Protection
Sophisticated attacks demand a sophisticated solution. With a multi-layer approach that incorporates machine learning and live email security analysts, Zix's Enterprise Suite provides advanced protection that your email, employees and business safe from the latest threats.
Industry-leading Email Encryption
Sending and receiving encrypted email doesn't have to be a hassle. Zix's Enterprise Suite protects sensitive data by combining automatic encryption with proven policy filters, unrivaled transparent delivery and a convenient recipient experience.
Single Management Interface
Tired of logging into so many different platforms to manage your organization's security footprint? Zix simplifies administration and reporting with a single management interface. Configuring, deploying and monitoring email security and unified archiving services has never been easier – or faster.
Additional Features

Fast Deployment
Get up and running in minutes rather than weeks with optional self-service deployment.

Business Continuity
Outages happen. Whether planned or unexpected, access to your email is preserved with our Enterprise Suite.

Gold Standard Support
With 24/7/365 monitoring and support included, our commitment to customers is second to none.
Contact Us for more information: